The New Science of Enabling Sales Excellence
Practical Implementation at Xerox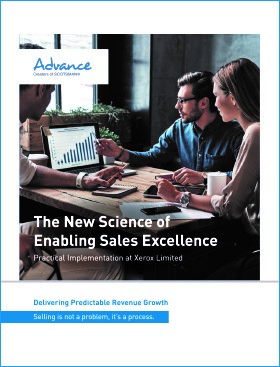 When any organisation needs to achieve a radical improvement in its sales performance to survive and thrive, there are many things to consider.
If you have a need to:
Create more time for your salespeople to actually sell
Significantly increase your sales effectiveness and productivity
Set ambitious growth objectives without fear of rebellion or attrition
Harness the power of your CRM, and integrate it into your sales management processes.
Then we recommend you invest 10 minutes of your time to read this paper.
You will learn how:
Xerox Sales Leaders ensured an already stretched sales force fully understood why a 100% increase was required.
the necessary sales productivity increases were achieved, through the creation of more effective selling hours.
the leaders created a new business model, and, through coaching and incentives, developed the new behaviours needed to achieve success.
they identified initiatives to address the key levers for growth and used a closed loop management process to focus on outcomes and measurement.
the right qualitative and quantitative data sets were used to develop a forensic understanding of their pipeline.
an aggregation of marginal improvements delivered radical change.
Your investment of time should be amply rewarded.