Why Advance
A Complete Sales Enablement Model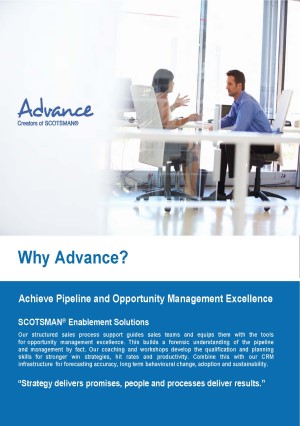 Do you find that:

The sales organisation has difficulty with sales forecasting and delivering predictable revenue growth?
You are dissatisfied with the way your pipeline opportunities are managed?
You don't have all of the sales datasets you would like?
Sellers waste valuable time chasing unwinnable deals?
Sales productivity is lower than you would like it to be?
Advance's Sales Enablement Model delivers transformational gains through an aggregation of small improvements. Our SCOTSMAN® Sales Enablement Solutions combine robust sales qualification and the process of driving out customer commitments to produce a sales process infrastructure that provides a forensic understanding of the pipeline. This gives sales leaders the data they need to drive sales productivity excellence.