Why Advance - A complete
sales enablement model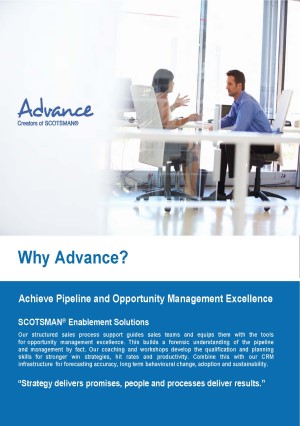 Strategy delivers promises .... People and Processes deliver results.
Do you, as a business or sales leader, find that:
The organisation has difficulty forecasting and delivering predictable revenue growth?
You are dissatisfied with the way your pipeline opportunities are managed?
You don't have all of the data sets you would like to inspect?
You have insufficient opportunities in your pipeline, so chase unwinnable deals?
Sales productivity is lower than you would like it to be?
If you experience some or all of the above, then take a look at a brief overview of Advance's Sales Enablement Model, the components of which:
Deliver transformational gains through an aggregation of marginal improvements.
Provide an infrastructure that improves how leaders coach, and drive sales productivity and excellence through people and processes, all focussed on the customer.
Enable leaders to develop a forensic understanding and improve the quality of the pipeline.
Develop a common language, set of skills and behaviours that replicate the best performers.
Redefine qualification by looking at the sale as a whole and measuring what the customer does to move the sale forward.
Help ensure that selling is aimed at winning winnable business, thus improving win rates.
Enhance opportunity management in Salesforce and Microsoft Dynamics CRMs.
SCOTSMAN® Enablement Solutions combine to support the delivery of predictable, reliable and consistent business results.