Advance Account
Planning Guide
Coaching and
Consulting Services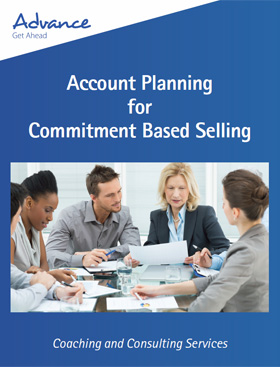 Sales people come in two flavours. There are "deal" sales people and "account manager" sales people. Arguably, about 90% of sales people have a deal mentality, even those who carry the account manager title.
There is a bigger objective than winning the sale. It is to win the account, to climb the preferred supplier ladder. When you are a preferred supplier you don't have to sell to them because they want to buy from you. You can effectively become an "order taker". But more importantly, the relationship means that you will be involved in opportunities earlier and be in a position to influence the buyer's criteria and tender content.
This guide describes Account Planning in the context of a six step Account Management Process, and covers three steps:
Identifying and understanding long and short term business opportunities
Building or updating an agreed plan that addresses those opportunities
Translating the account strategy into specific actions – an operational plan which encompasses relationships, care (keeping your house in order), prospecting within the account and deal plans for known opportunities.
The guide is part of our blended approach, helping you put into practice what you have learnt online or in the classroom. Practical training leading to self-sufficiency.