Advance Deal Planning Guide
Coaching and Consulting Services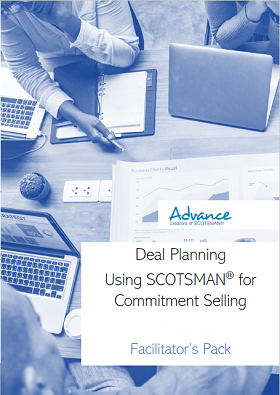 The key objective of deal planning is to sell product/service A to customer B by month C for price D.
Deal planning works best when it is based on commitments. The key is to plan for the customer to commit to specific actions at specific stages of the deal. The main measure is action – by getting the customer or prospect to take the actions you need, you generate a groundswell of activity within their organisation which puts you in a much better position to close the deal.
Focussing on understanding the politics of the deal, rigorous qualification with SCOTSMAN
®
, building the customer's needs and mapping the way forward, our six step process ensures that you:
Direct your activities at the point of greatest return, including quitting early if the chances of winning do not justify continuing the sale
Increase the probability of winning winnable business.
The guide is part of our blended approach, helping you put into practice what you have learnt online or in the classroom. Practical training leading to self-sufficiency.